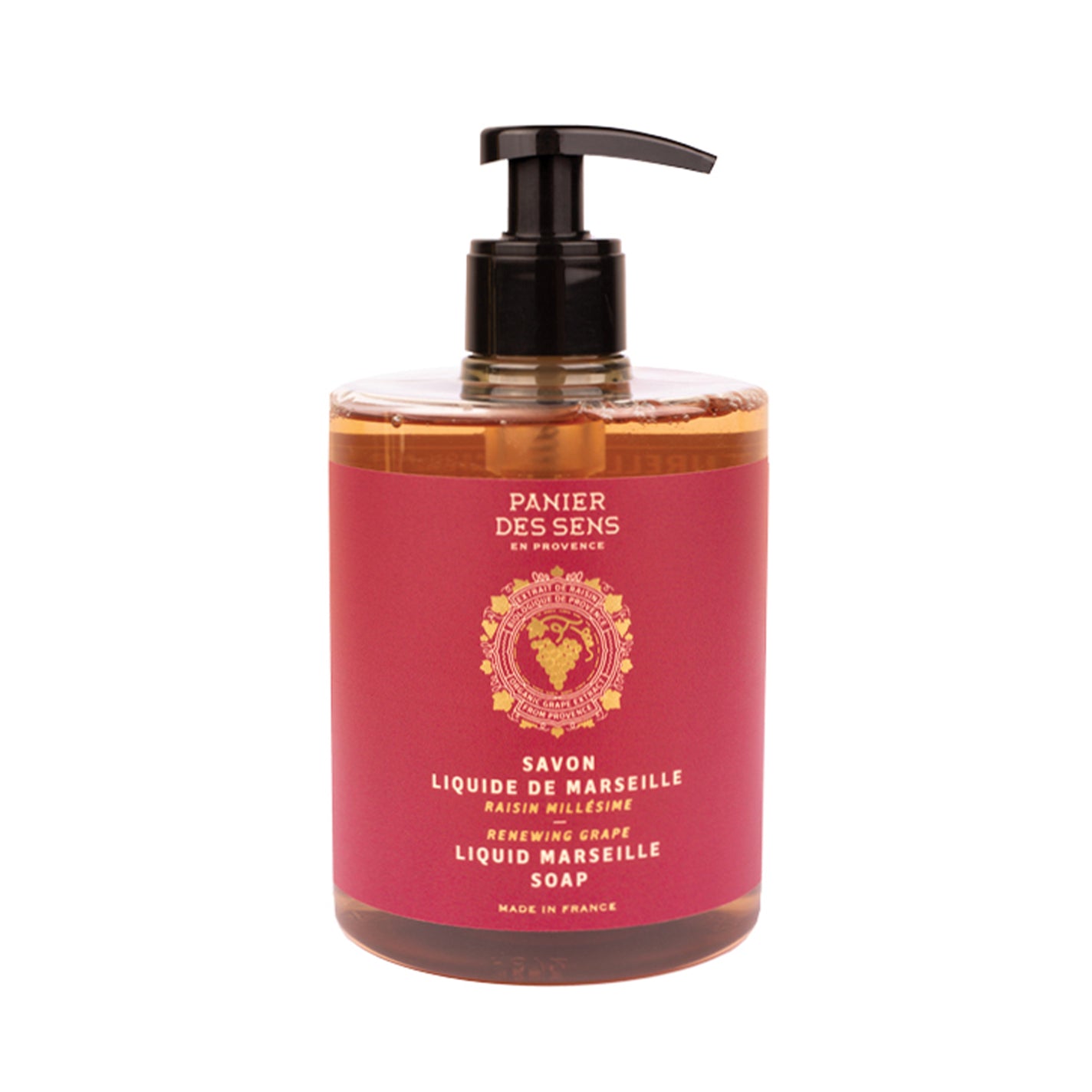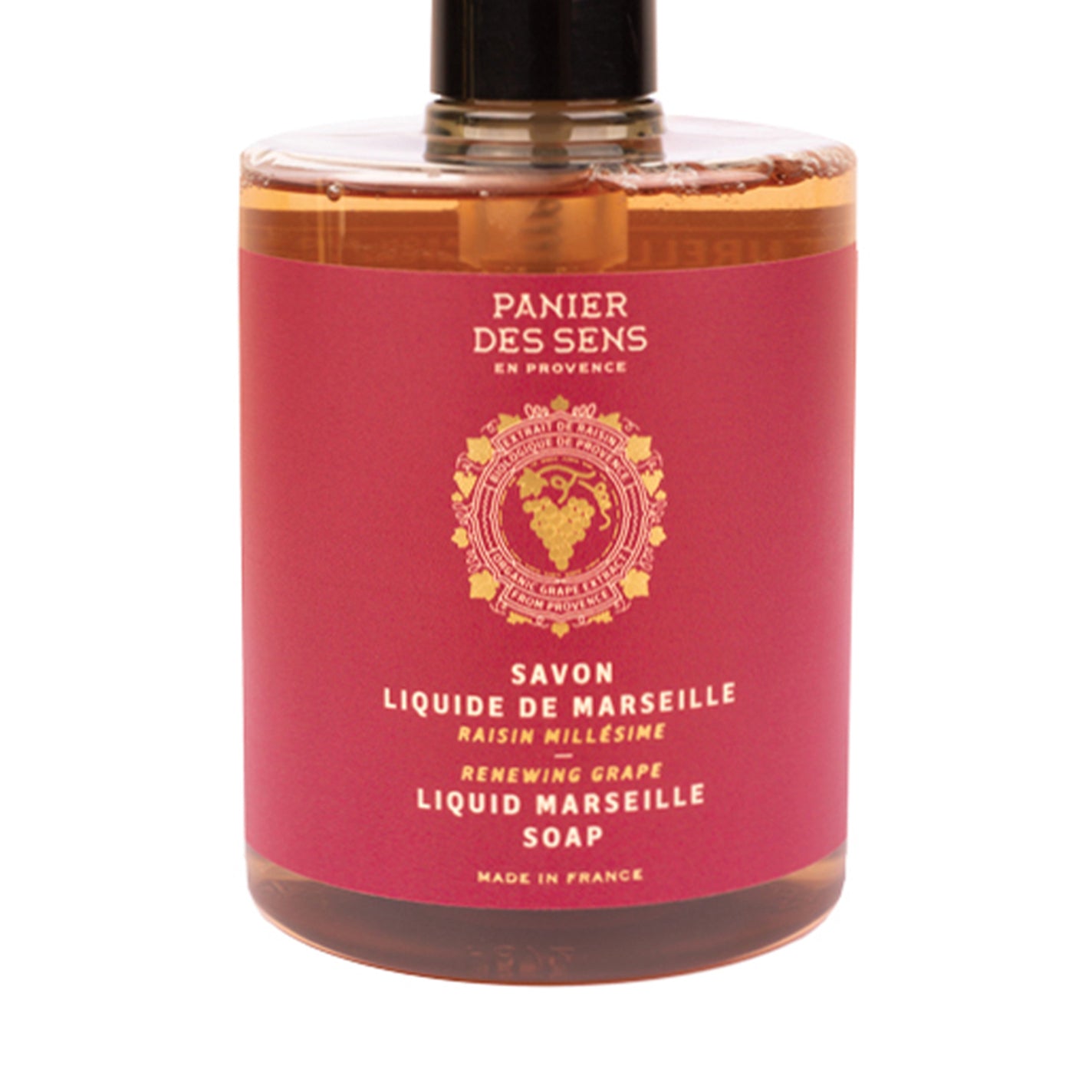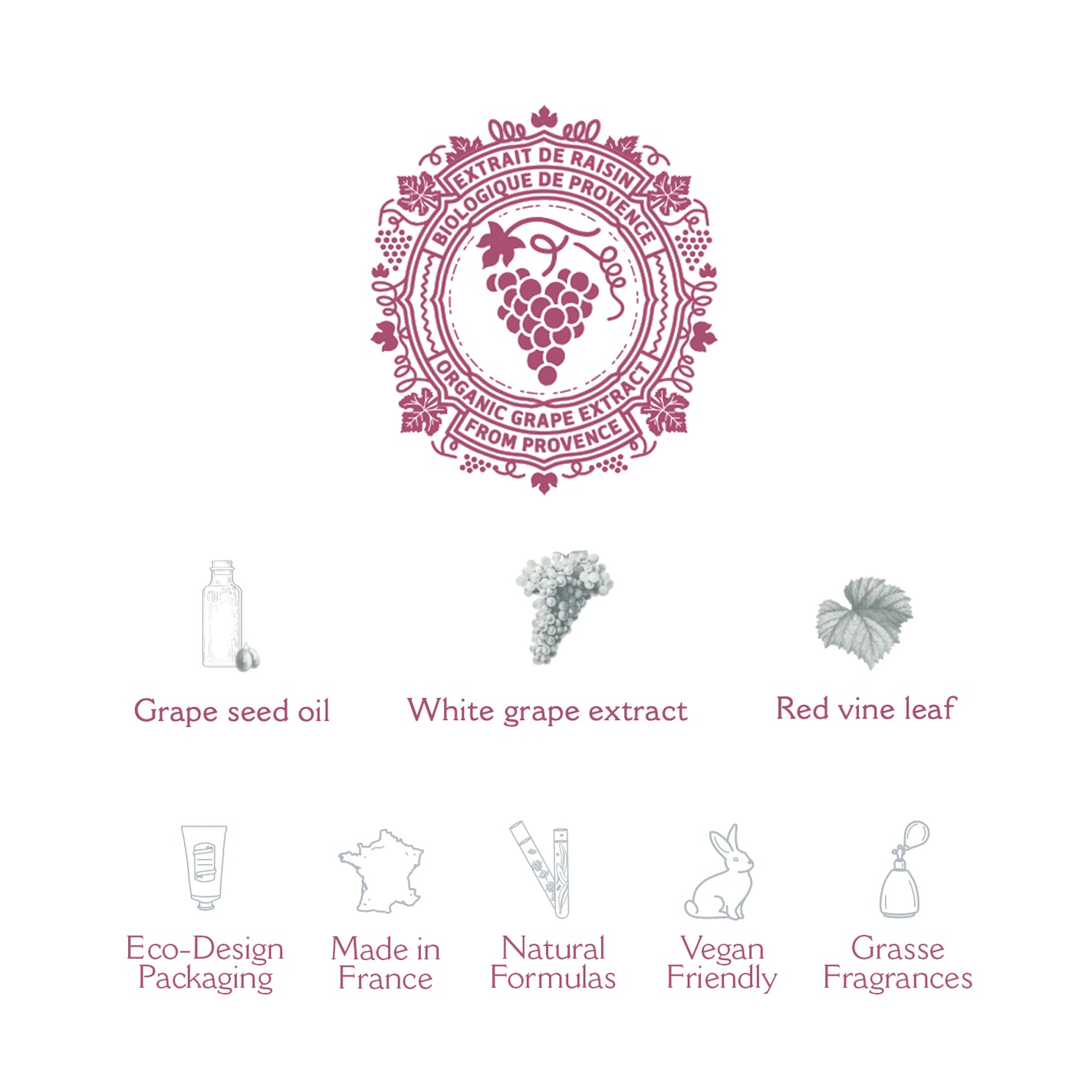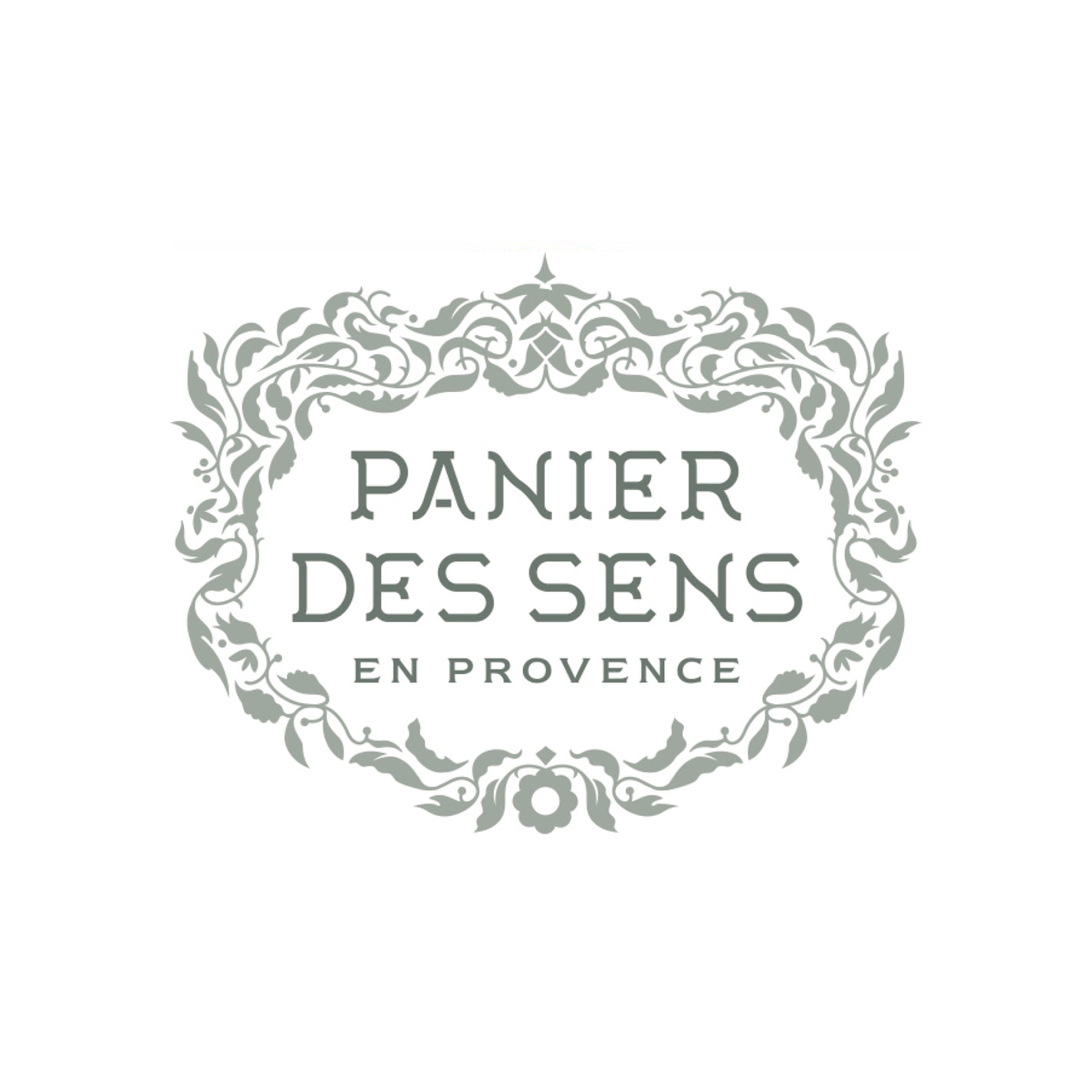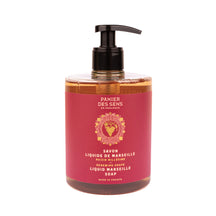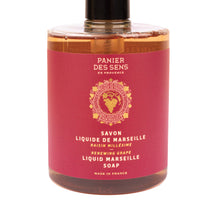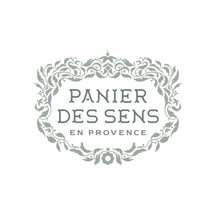 Panier des Sens Renewing Grape Marseille Liquid Soap
$29.95
Panier des Sens Renewing Grape Liquid Soap is made using traditional Marseille soap making methods. Enriched with vegetable oils, the handy pump means that just the right amount of liquid soap is dispensed each time.
Panier des Sens has drawn inspiration from nature to create its Renewing Grape skincare range. Formulated with organic white grape extract from Provence, grapeseed oil and red vine leaf. The collection is inspired by vinotherapy and packs all the goodness of grapes into detoxifying and slimming treatments. Cultivated with love at the Domaine de la Blaque in Haute-Provence, Panier's white grape is certified organic and benefits from a PDO (Protected Designation of Origin). Made in France.
Officially imported and exclusively distributed by Saison.
Fragrance
Floral fruity. A cocktail of sparkling and fruity notes delicately softened by sensual white flowers.
Specifications
‐ 97% natural origin
‐ Vegan friendly
‐ Renewing, antioxidant, protective
‐ Traditional Marseillaise manufacturing
‐ Dermatologically tested
‐ Suistainable Provençal organic agriculture
‐ 100% recycled and recyclable packaging
‐ Free from parabens, aluminium, silicone and Phénoxyéthanol
‐ Made in France
‐ 500ml
How to use
Practical, this 100% recycled plastic pump bottle delivers the right amount, no more, no less. Place one or two drops in the palm of your hands and work up a lather. Rinse thoroughly. Avoid contact with the eyes. In case of contact, rinse thoroughly with clear water. Good to know: can also be used for the body.
Key Ingredients
EXTRACT OF ORGANIC WHITE GRAPES FROM PROVENCE - Revitalising
Grapes are packed with nutrients, minerals, vitamins and antioxidants such as flavanoids and polyphenols. This fabulous cocktail protects your skin from free radicals and helps lock in its youthful glow. It boosts cell regeneration and tones up your skin.
GRAPE SEED OIL - Antioxidant
Grape seed oil is high in essential fatty acids and has emollient properties; it softens and nourishes your skin and ensures it remains moisturized. It's a renowned antioxidant that neutralizes free radicals to protect the skin barrier. By stimulating collagen and elastin production, grape seed oil ensures your skin stays supple and firm. What's more, grape seeds boast mechanical exfoliating properties that keep your skin smooth.
COCONUT OIL - Protective
Protective From the dry pulp of coconut, this oil, rich in lauric acid, is traditionally used in soaps for its foaming and cleaning power. Its fatty acid content makes it a very popular ingredient for its softening, emollient and protective properties. Deodorized, coconut oil is a good alternative to virgin coconut oil, which has a very strong smell.
GLYCERINE - Moisturising
Glycerine, made during the traditional cauldron-cooking soap-making process, is naturally present in our liquid Marseille soaps. As it's capable of retaining up to 25% of its weight in water, it acts as a water reservoir for the skin and is therefore an excellent moisturising agent. It's also renowned for its emollient, protective properties and regenerative properties.
Sustainability
To ensure flawless product quality and to preserve a unique agricultural legacy, Panier des Sens teams up with local artisans and producers to develop and encourage sustainable and organic agriculture whilst preserving the local species that create the wealth of this region.
Cultivated with love at the Domaine de la Blaque in Haute-Provence, Panier des Sens white grape is certified organic and benefits from a PDO (Protected Designation of Origin). This family-run estate, managed by Laurence and Yves Delsuc, who met and fell in love during their oenology studies at university, sits at an altitude of over 420 m on the Luberon foothills. Their vineyards, stretching over more than 62 ha, produce wines which are regularly awarded prizes and highly- acknowledged. Domaine de La Blaque became organic- certified in 2010. A precursor in the region, the Delsuc family is committed to banning hazardous products; here, everything is free from pesticides, chemical substances and synthetic products.
—
DID YOU KNOW?
Vinotherapy involves using wine by-products for beauty treatments and cosmetics.
Ingredients
AQUA (WATER) / POTASSIUM COCOATE / PARFUM (FRAGRANCE) / GLYCERIN / HYDROXYETHYLCELLULOSE / DECYL GLUCOSIDE / TETRASODIUM GLUTAMATE DIACETATE / COCOS NUCIFERA (COCONUT) OIL / VITIS VINIFERA SEED OIL / VITIS VINIFERA FRUIT EXTRACT* / VITIS VINIFERA LEAF EXTRACT / TOCOPHEROL / CITRIC ACID / POTASSIUM SORBATE / POTASSIUM BENZOATE / SODIUM BENZOATE / TETRASODIUM EDTA.
*Ingrédient d'origine biologique - Ingredient from organic origin.
Panier des Sens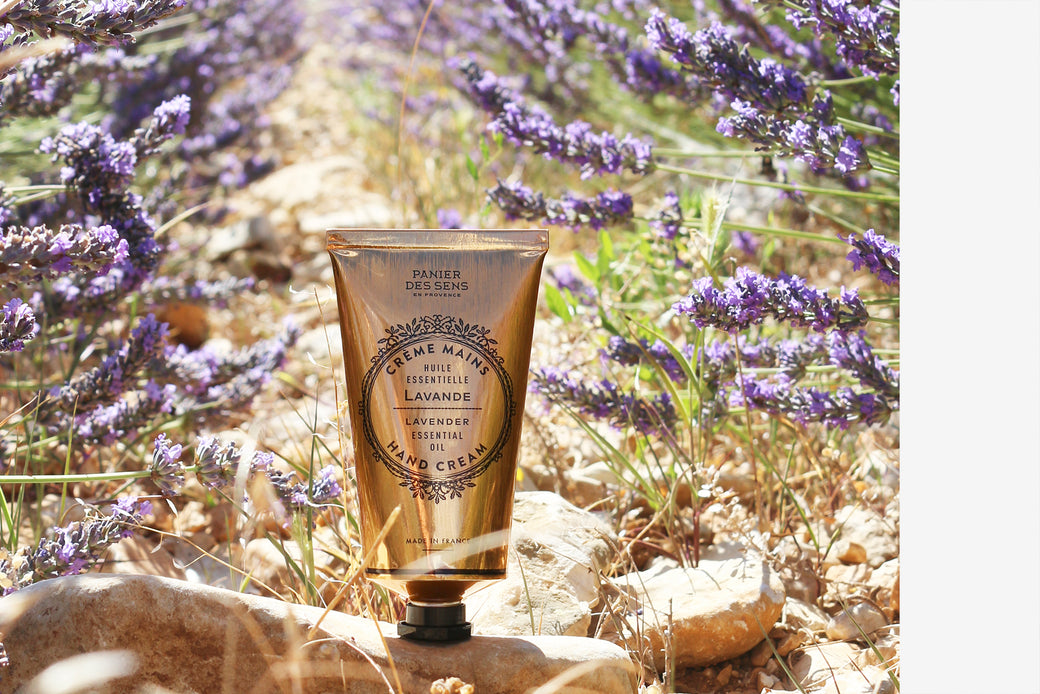 Panier des Sens
From the Provence region in Southern France comes the beautifully authentic creations of Panier des Sens. Using locally sourced, natural ingredients, Panier des Sens delivers an wonderful collection of hand creams, soaps, and curated bath and body products. Panier de Sens natural formulas benefit all skin types, and abide by a strict formulation charter, always giving precedent to vegetal and organic natural ingredients. Saison is the official importer and distributor of Panier des Sens in Australia. All orders over $100 enjoy complimentary registered delivery. Free product samples are also included with every purchase.
Shop more Bath + Body from Saison.
Sign up for VIP Offers
Subscribe to Saison's newsletter and be rewarded with exclusive gift with purchase offers, free samples, VIP early access to SALE and $10 off your first order.

*Conditions apply.