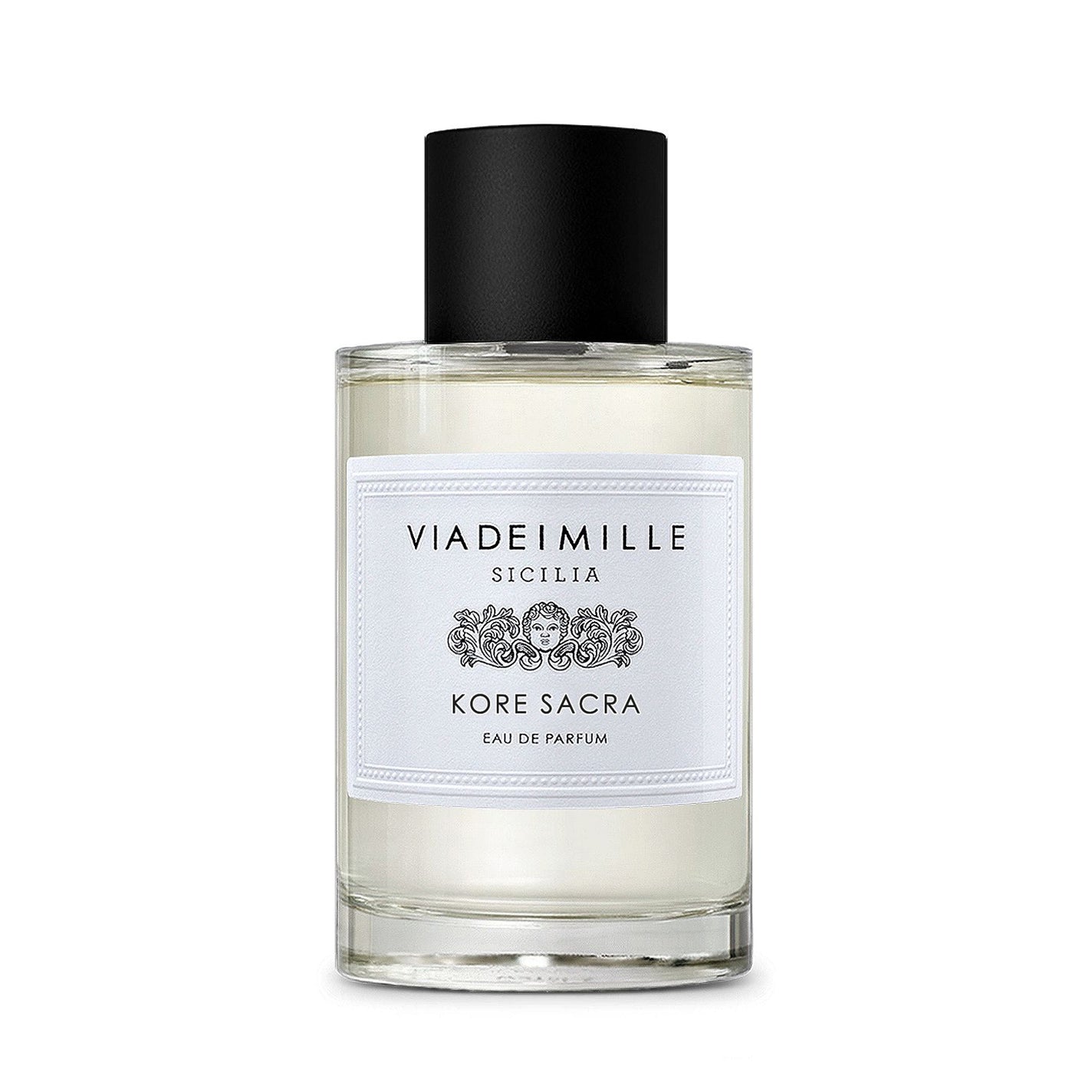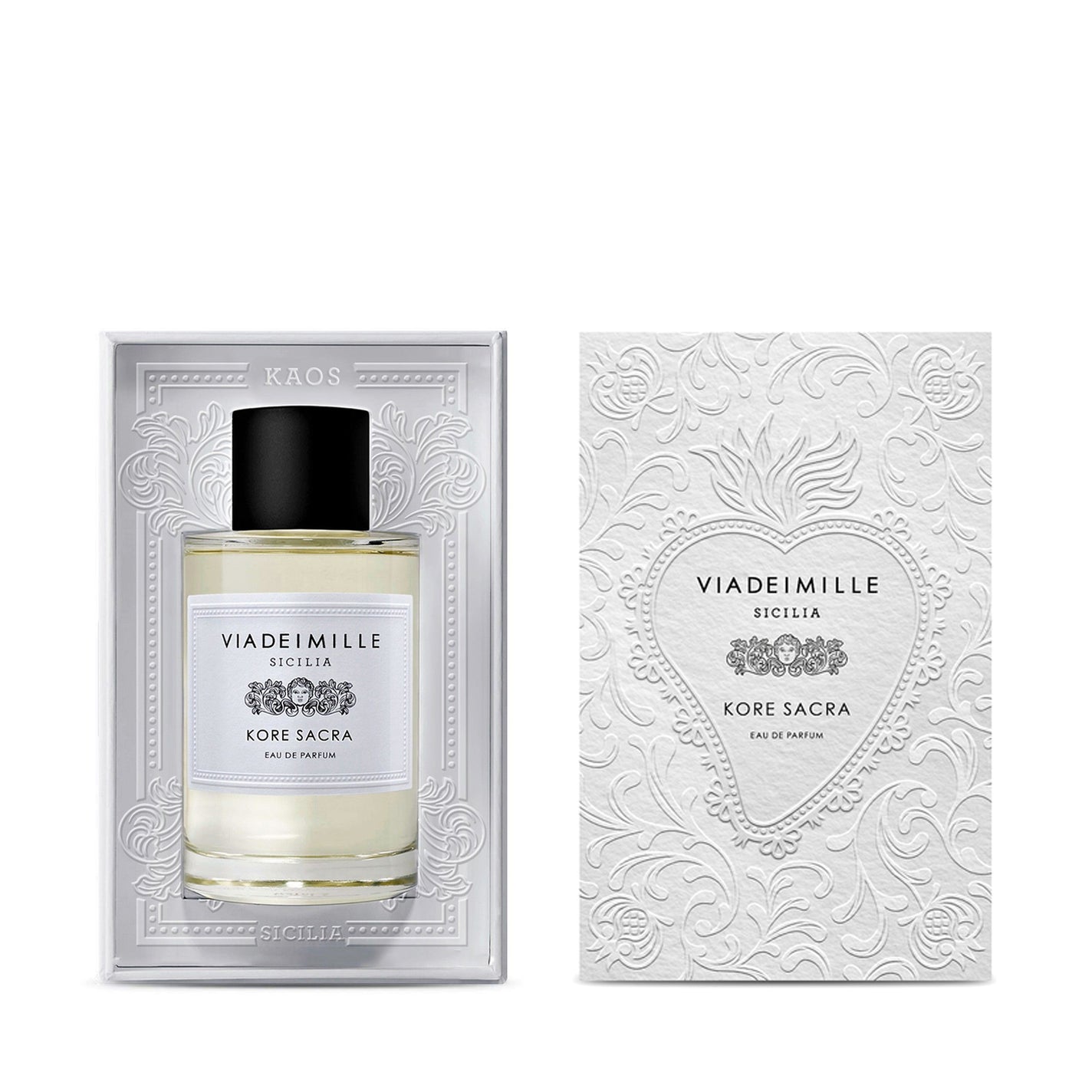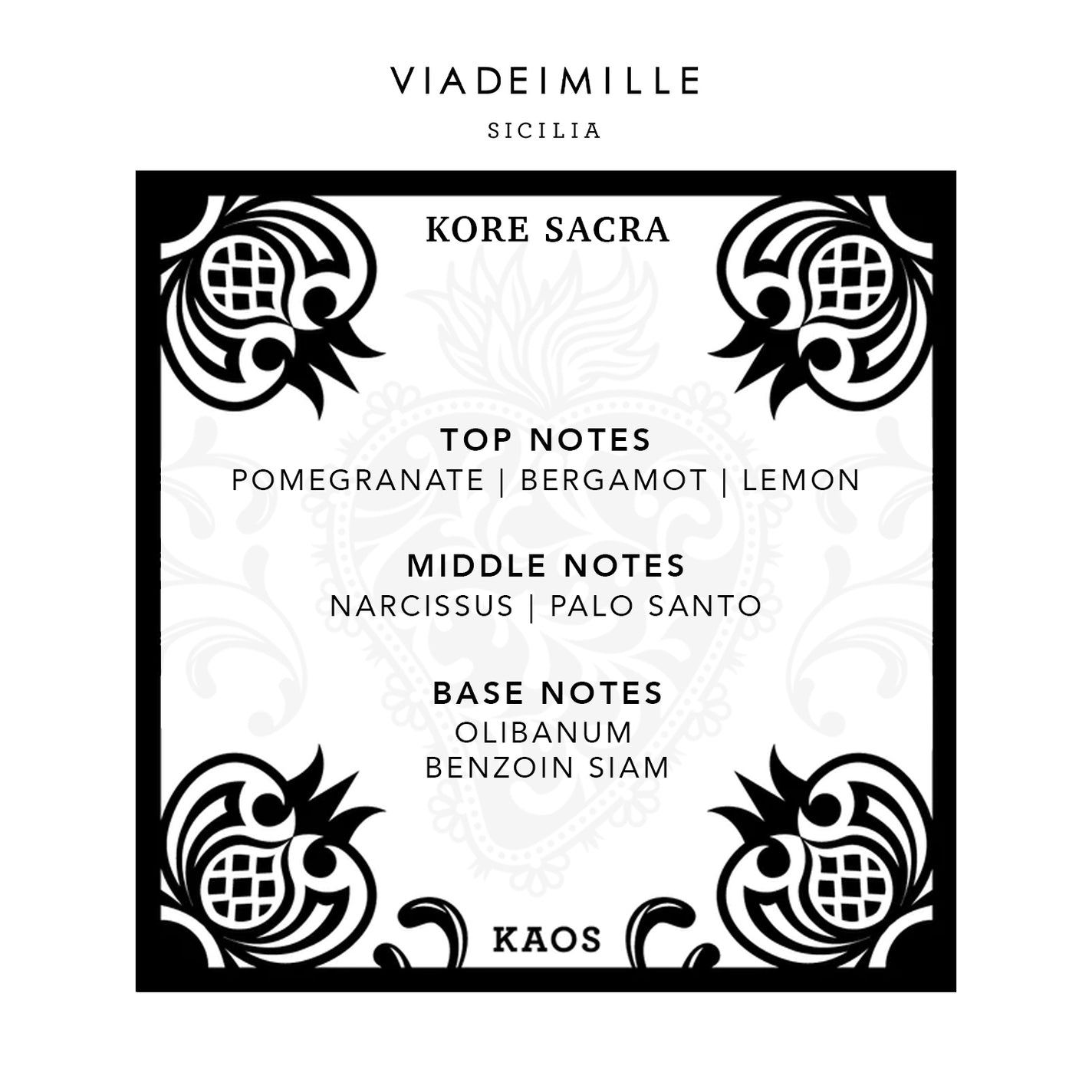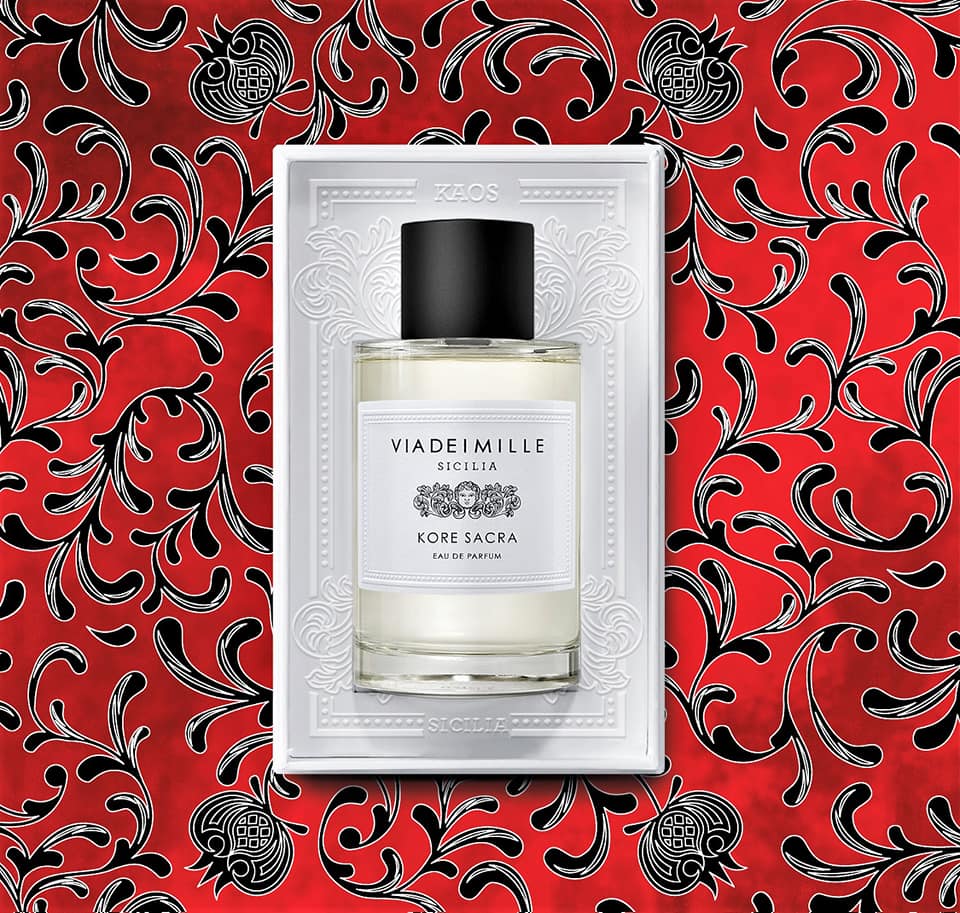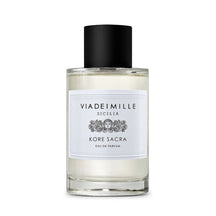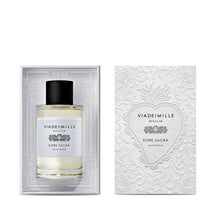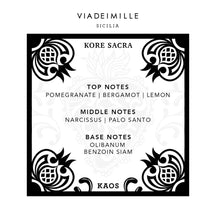 VIA DEI MILLE Kore Sacra Eau de Parfum
$275.00
VIA DEI MILLE's KORE SACRA captures the dreamlike moment when disparate things, places and stories merge in a new vision; it interweaves magic and devotion, endings and rebirth, the mythical fruit of the pomegranate and the cult of the sacred which persists to this day.
From the creators... In the garden of our house in Via dei Mille, there was a pomegranate tree, and as children, on golden autumn afternoons, we would play at making pipes from its smaller fruits. It certainly was an initiation – as though we unconsciously sensed the mysteries of this sacred fruit, whose blood red seeds gleamed like gemstones at its heart. The pomegranates of the Via dei Mille brought us to a sacred place, the site of an ancient sanctuary to the goddess Kore, at Enna, in the heart (core) of Sicily. And here, by chance, at the Brotherhood of The Sacred Heart of Jesus, we discovered a small treasure. The pomegranates, the myth of Kore, the sacred hearts lovingly crafted by generations of local women – all in the very heart of Sicily. Made in Italy.
Saison is an official Australian stockist of VIA DEI MILLE.
Fragrance
Notes: pomegranate, bergamot, lemon, rose, narcissus, palo aanto, olibanum, benzoin siam,
Specifications
‐ Includes exclusive essential oils from Sicily
‐ Made in Italy
‐ 100ml
Via Dei Mille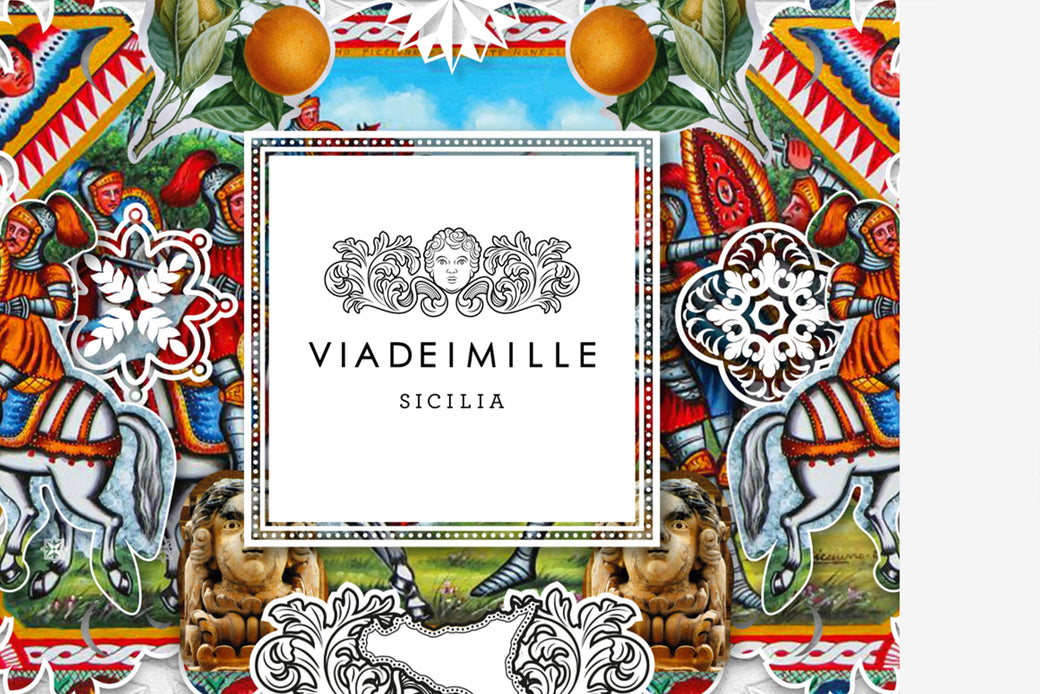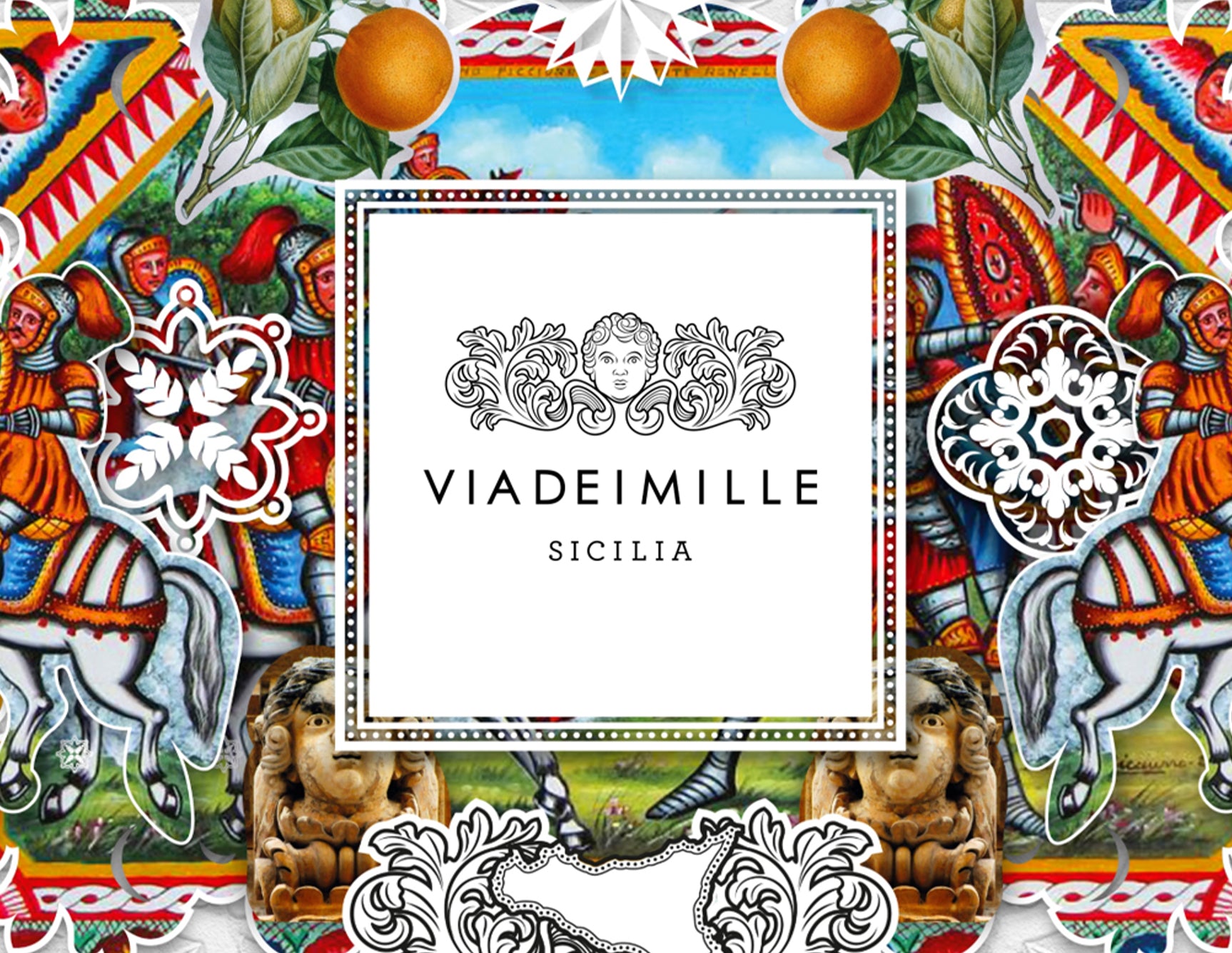 Via Dei Mille
VIA DEI MILLE · SICILIA is an olfactory journey that began in 1950's Sicily. In his artisanal distillery, founder Salvatore Scorsonelli produces flower essences with an emphasis on Zagara, the delicate yet intoxicating blossom of the bitter orange tree. It is in Via dei Mille, in front of his Noto house, in a typical Sicilian garden planted with jasmine, almond and citrus trees, that Salvatore installs the distillery where for more than ten years he would manufacture one of the most precious floral oils used to design perfumes. In 2011, Stefano Alderuccio, one of Salvatore's grandsons, retraces the steps of his grandfather and his distillery methods and VIA DEI MILLE is re-born.
Shop more Perfume from Saison.
Sign up for VIP Offers
Subscribe to Saison's newsletter and be rewarded with exclusive gift with purchase offers, free samples, VIP early access to SALE and $10 off your first order.

*Conditions apply.