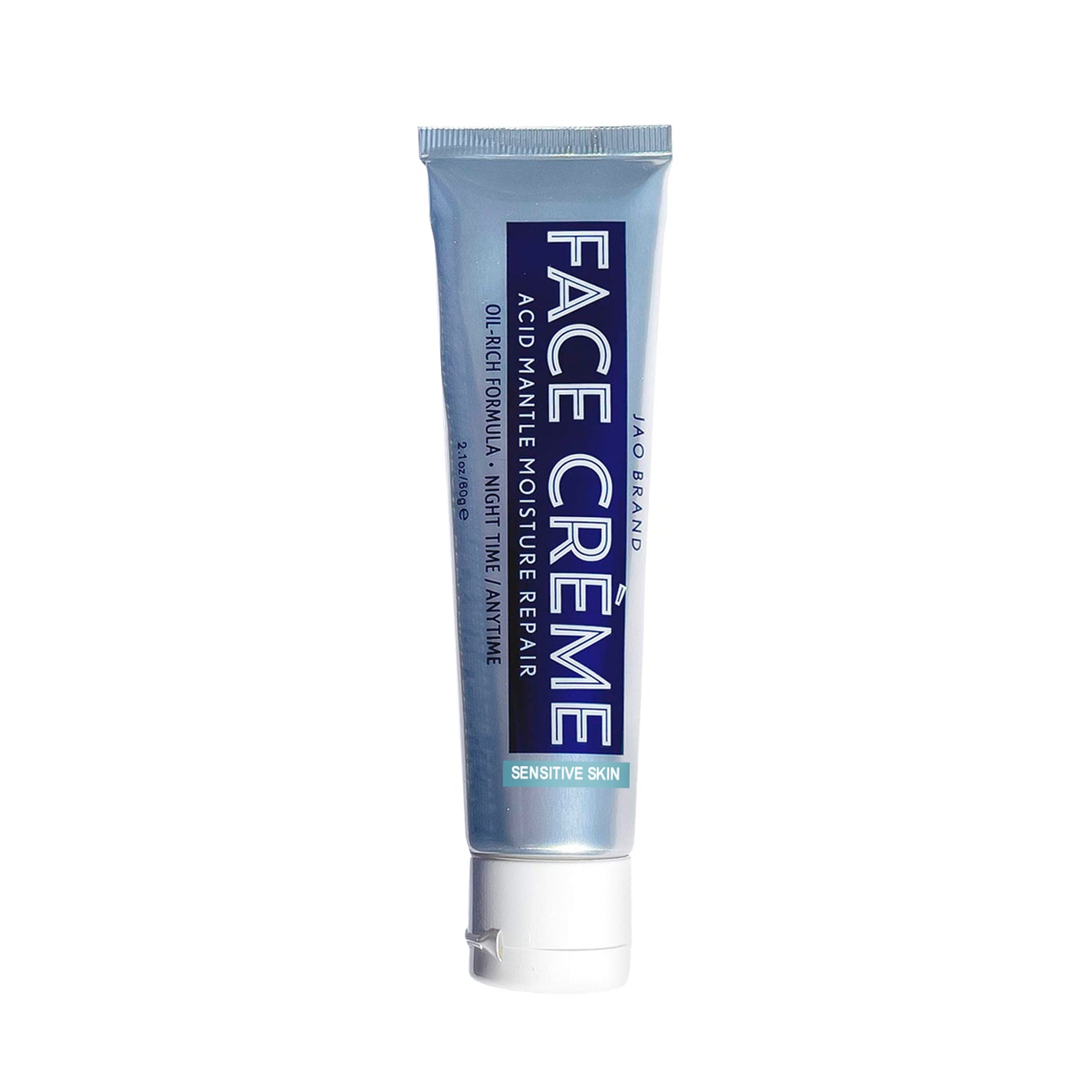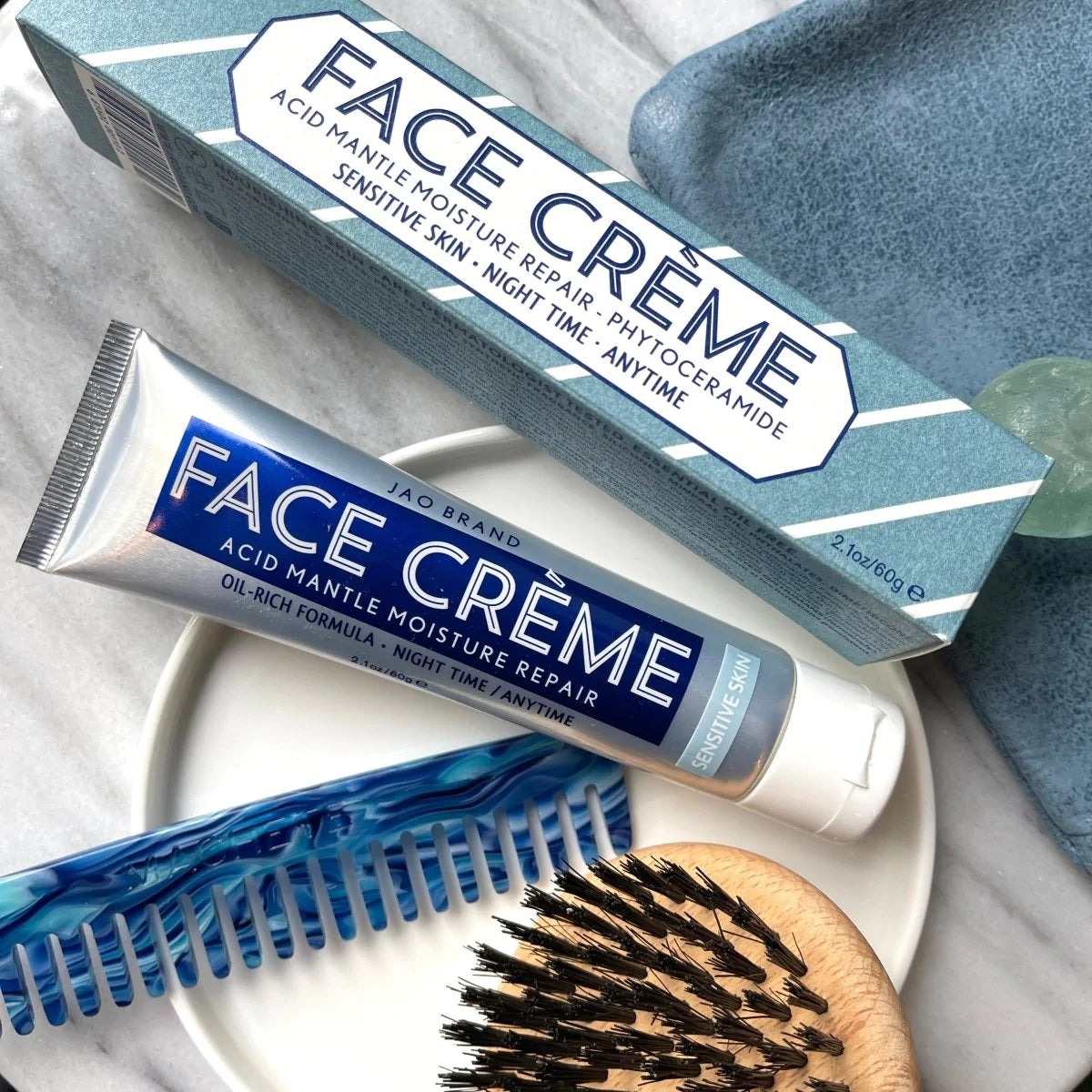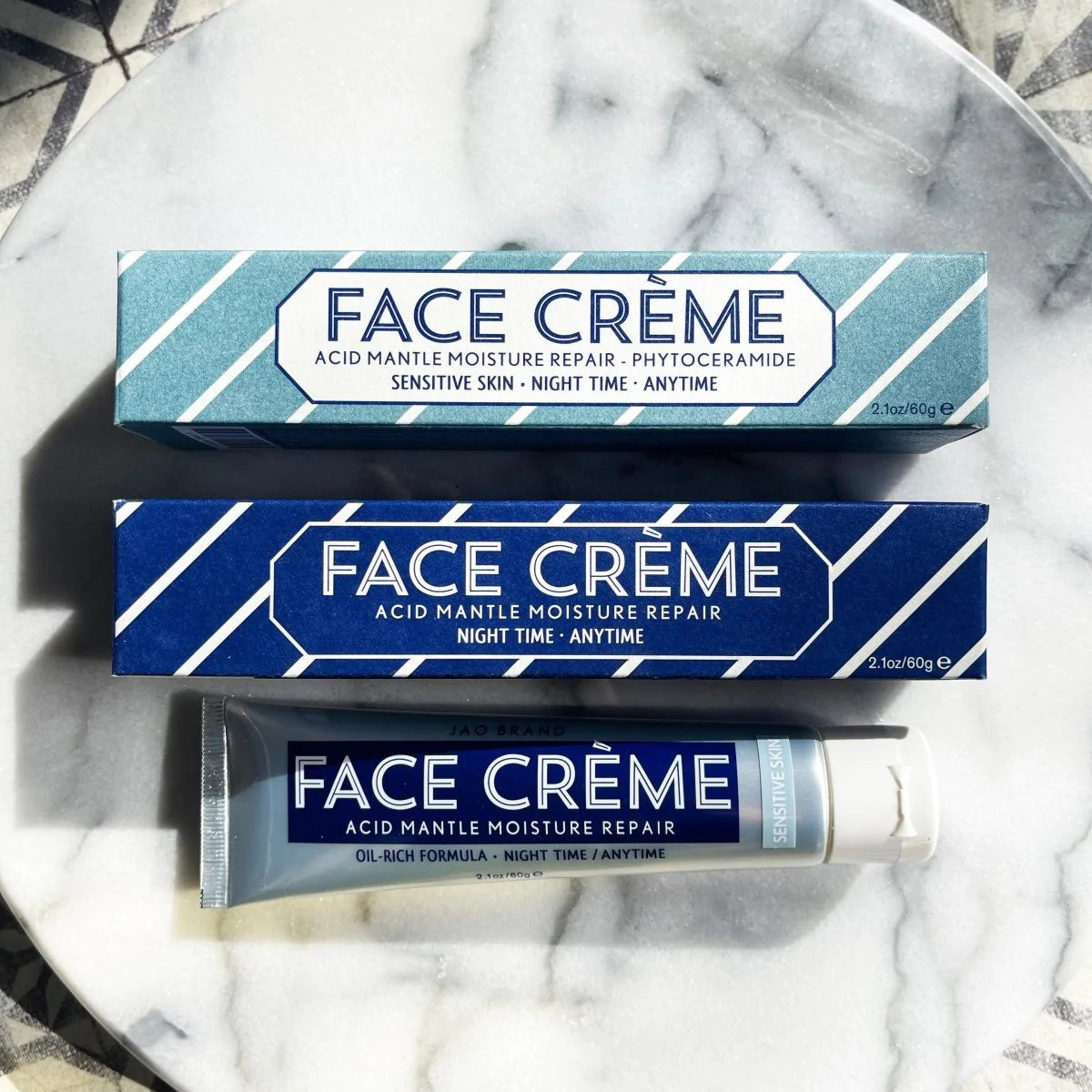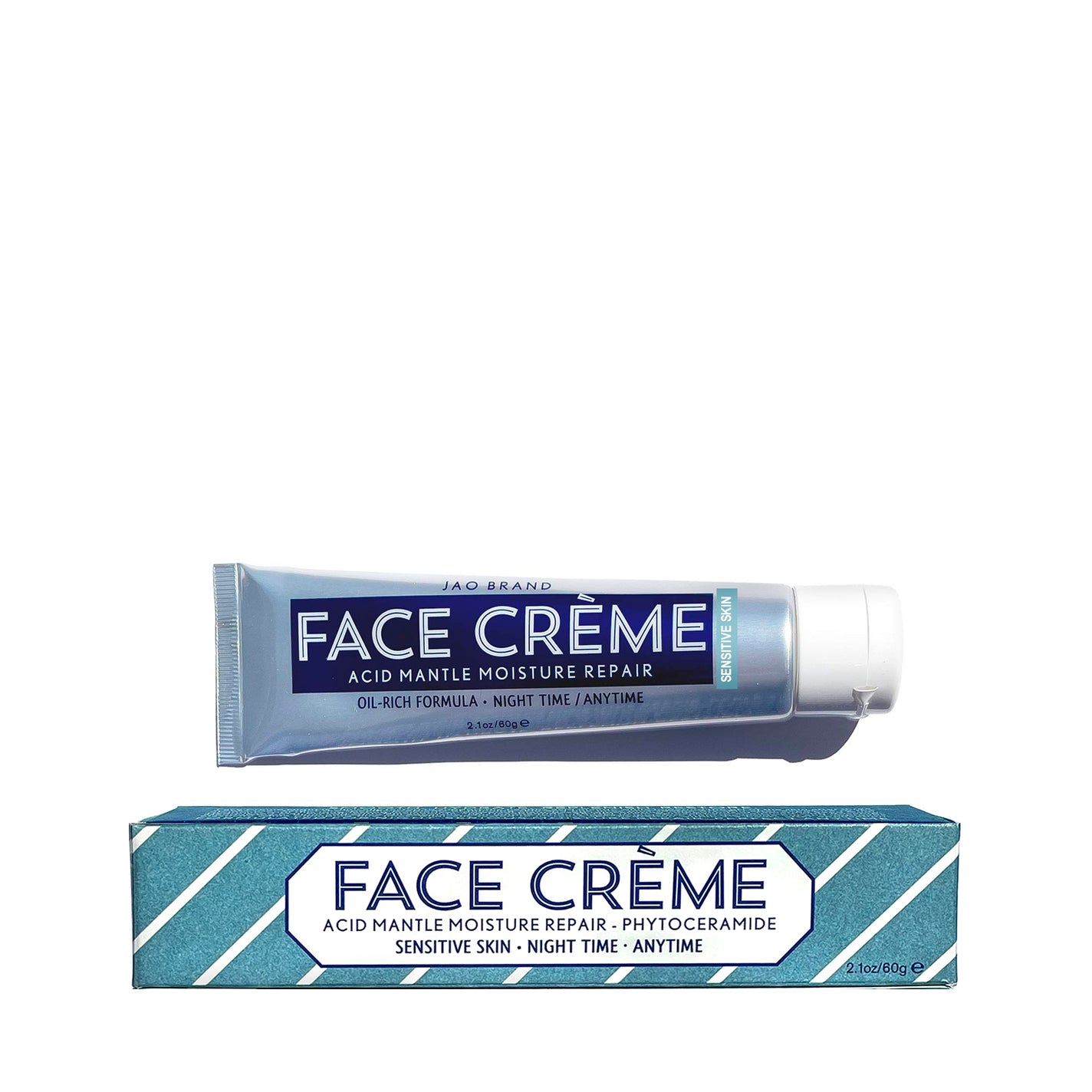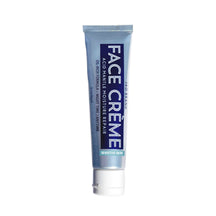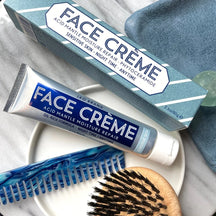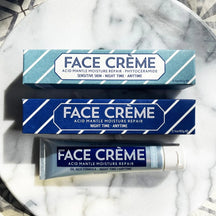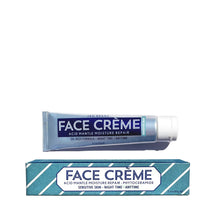 Jao Night Time Anytime Face Creme - Sensitive
$149.95
Jao Brand's Night Time Anytime Face Cream offers serious anti-aging moisture repair. The sensitive formula is the same as original, without essential oils. Its unique formulation maximises youthful retention by targeting the age-related problems of thinning skin, fine lines and dehydration. This long lasting moisturiser delivers results with 99% of its ingredients naturally derived for superior antioxidant skin protection. Daily application locks in moisture from the inside out, improves elasticity, thickens skin and smooths wrinkles. Made in USA.
Officially imported and exclusively distributed in Australia by Saison.
Specifications
‐ Formulated for night. Perfect anytime.
‐ pH balanced
‐ Dermatologist tested
‐ Only tested on humans (humanely)
‐ No Parabens, Sulphates, PEG, TEA, DEA, Synthetic Fragrance, Silicones, Mineral Oil, Phthalates, Dimethicone
‐ Unisex
‐ Vegan
‐ Made in the USA
‐ 60g
FAQ
Do the ingredients in Jao Face Crème have a beneficial effect?
"Officially, the American Academy of Dermatology does not endorse products and prohibits dispensing or promoting products that have no beneficial effect. In fact, the AAD states unequivocally that the two most effective anti-aging products consumers can purchase are moisturizers and broad-spectrum sunscreens, and that the secret ingredient in most anti-aging creams is actually a well-formulated moisturizer, sometimes enriched with sun-blocking agents." - Zen Liu, Pacific Standard
Jao Face Crème has oat protein. Do oats contain gluten?

‐ The indication is that gluten in a body care product probably won't cause a reaction. Obviously, you know your body best and can choose whether to use body care products containing trace amounts of oat protein: the amount of oat protein in Jao Brand Face Crème is less then 2%.
‐ We take our advice from the experts at the University of Chicago Celiac Disease Center: "A large body of scientific evidence accumulated over more than 15 years has proven that oats are completely safe for the vast majority of celiac patients. Oats are not related to gluten-containing grains such as wheat, barley and rye. They don't contain gluten, but rather proteins called avenins that are non-toxic and tolerated by most celiacs (perhaps less than 1% of celiac patients show a reaction to a large amount of oats in their diets). Oats can be in a celiac's diet provided they are selected from sources that guarantee a lack of contamination by wheat, rye or barley."
‐ In addition, according to Celiac Central, "This is a personal decision that each of us can make, but science indicates that gluten in shampoo and cosmetics is not a threat to those with celiac disease– except for those that may be easily ingested, like lipstick or potentially hand lotion. Researchers have found that unless you have a deep and open wound, gluten cannot be absorbed through the skin making topical items acceptable for use. (A quick reminder: don't forget to wash your hands after applying a gluten-containing hair or cosmetic product to avoid any unintentional ingestion.) If you have a reaction to a cosmetic or toiletry, consider an alternate culprit like an allergic reaction."
Why is there some oil at the top when I opened the tube?
In crafting a natural Face Crème for Night, with 21% of oils, including Plum, Meadowfoam, and Rosehips, we cannot guarantee that some of the oil might migrate out of the formula, and accumulate around the opening at the top. Because we chose not to use synthetic emulsifying waxes, which have a higher melting point, and instead used natural ones made from olives, the melting point is lowered. Depending on storage, you might find some oil at the top of your product when you first use it, or here and there throughout. This should not adversely affect the product in any way. You can spread the oil with clean fingertips on your face. Pat dry, and then apply the crème.
Why are there glycols in the Face Créme Night?
We have done everything we can to make our product as natural as possible, while also being able to be safe, and effective. We chose to use 3 active ingredients that are proven to have anti aging effects on the skin. Two of these ingredients, Unitamuron H-22 (from the Tamarind Seed) and Uniprosyn PS-18 (from Hydrolyzed Oat Protein) are formulated with glycols as part of these compounds, as the glycol molecules allow the active ingredients to penetrate the substrate of the skin, and also act as a preservative. All Glycols are not created equal and ours only account for 1% in our formula. We are not using Polyethylene Glycol which has had more negatives associated with it. The consumer advocacy group Environmental Working Group (EWG), with no affiliation to any industry, companies, or organization rates Butylene Glycol as 0 on its health concern scale (0=10 Scale). This means zero effect on the skin.
Can my Face Créme smell slightly different tube to tube?
In the Original formula we use essential oils and no synthetic fragrance, so a trained nose may notice a slight fragrance variation batch to batch. This is because the essential oils are made from plants and each growing season there are changes due to weather, moisture and sun. The Sensitive Skin version has no essential oils, but plum oil can vary naturally as well.
Ingredients
Aqua (Water), *Prunus Domestica (Plum) Seed Oil, *Cetearyl Olivate, *Sorbitan Olivate, Ethylhexyl Olivate, *Lactobacillus Ferment, *Glycerin, *Limnanthes Alba (Meadowfoam) Seed Oil, *Behenyl Alcohol, *Butyrospermum Parkii (Shea) Butter, *Squalane (from Olive Oil), *Glyceryl Stearate, Butylene Glycol, *Panthenol, *Rosa Canina (Rosehip) Seed Oil, *Tocopherol (Vitamin E), *Helianthus Annuus (Sunflower) Seed Oil, *†Caprylyl Glycol, †Pentylene Glycol, *Glycine Soja (Soybean) Oil, *Tamarindus Indica (Tamarind) Seed Gum, *Gluconolactone, *Sodium Citrate Anhydrous, *Xanthan Gum, *Adenosine Triphosphate, *Hydrolyzed Oat Protein, *Niacinamide, *Caprylhydroxamic Acid, *Calendula Officinalis (Calendula) Flower Extract, *Chamomilla Recutita (Matricaria) Flower Extract, *Rosmarinus Officinalis (Rosemary) Leaf Extract, *Hexapeptide -48 HCL.
† Less than 0.5% in formula
*plant-based
Jao Brand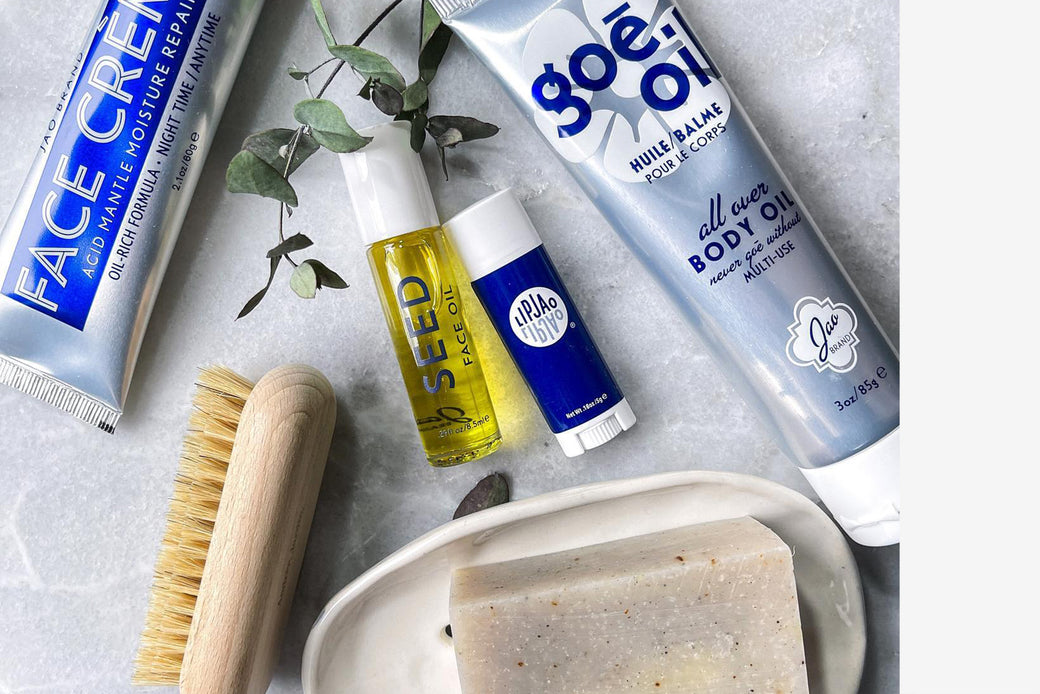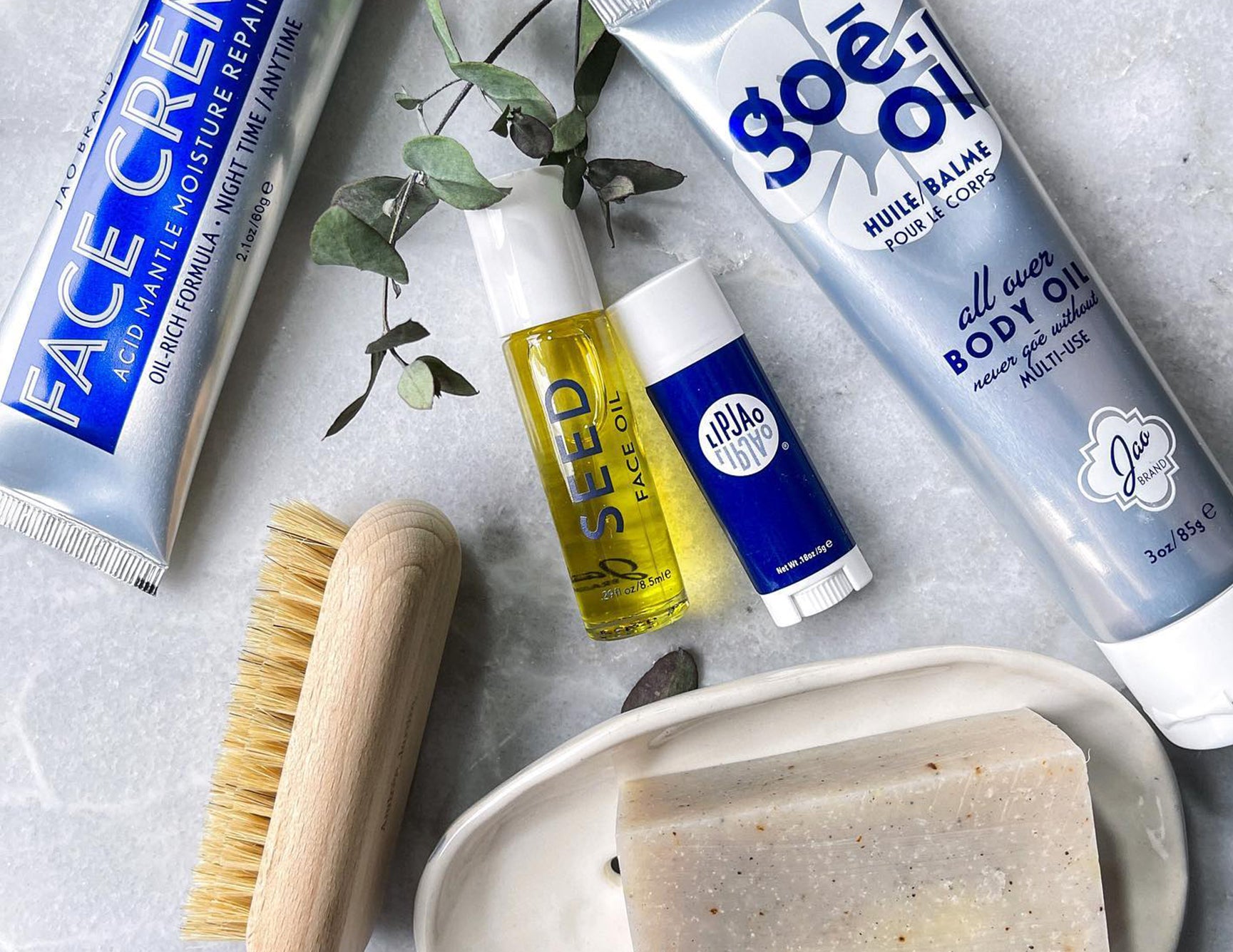 Jao Brand
Jao Brand's range of multi-purpose balms, oils and creams are made using high quality 99% natural ingredients which leave the skin feeling soft, smooth and herbally uplifted. Jao do not use parabens, sulphates, phthalates, silicones or synthetic fragrances. Intelligently created in the USA, the no-nonsense packaging is straight to the point. It's all about what's inside. The best-selling Goe Oil is a powerful multi-purpose body oil that contains 28 plant, fruit and seed oils to protect, plump and hydrate. Heading outdoors? Jao's Patio Oil is an insect-repelling balm that soothes summer skin. Or try Jao's buttery, healing lip balm and refreshing aromatherapy hand sanitiser. Saison is the official Australian distributor of Jao Brand.
Shop more skin care from Saison
Sign up for VIP Offers
Subscribe to Saison's newsletter and be rewarded with exclusive gift with purchase offers, free samples, VIP early access to SALE and $10 off your first order.

*Conditions apply.